🗓 Richmond Area Weekender Guide, September
Richmond Area Weekender Guide
Here are some of the MARCUMsold Team's favorite things to do in-and-around Richmond, KY!
What: Movies In The Park
Where: Irvine-McDowell Park, Richmond
When: Sept 2nd, Sept 23rd & Sept 30th
Details: Join us for a FREE Movie in the Park! We will be showing "Encanto" at dusk! Food Trucks such as Comete Alguito, Poppy's Ice Cream and Cotton & Cone will all be on site!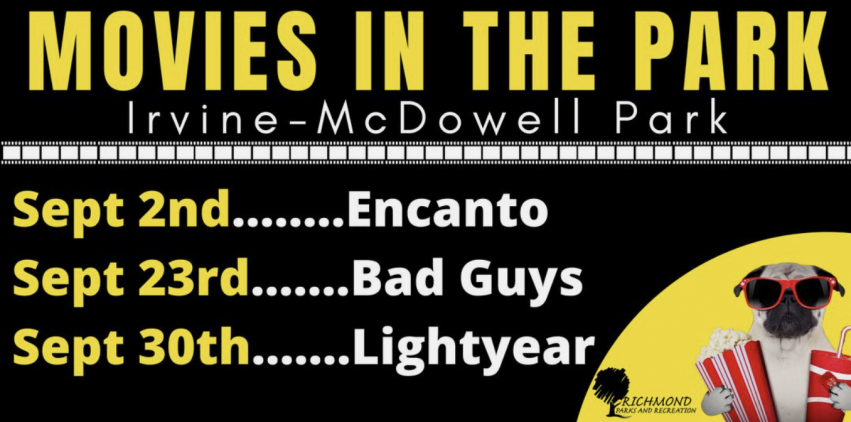 What: Art Club
Where: Richmond Area Arts Council
When: Sept 11th (11 weeks long)
Details: The Richmond Area Arts Council will be offering evening art classes for grades 1-5 in the fall! Classes will be taught by Wendee Combs Clark. The tuition cost includes all materials. Registration is available by calling 859-624-4242 or through the Richmond Area Arts Council's website at www.artsinrichmond.org.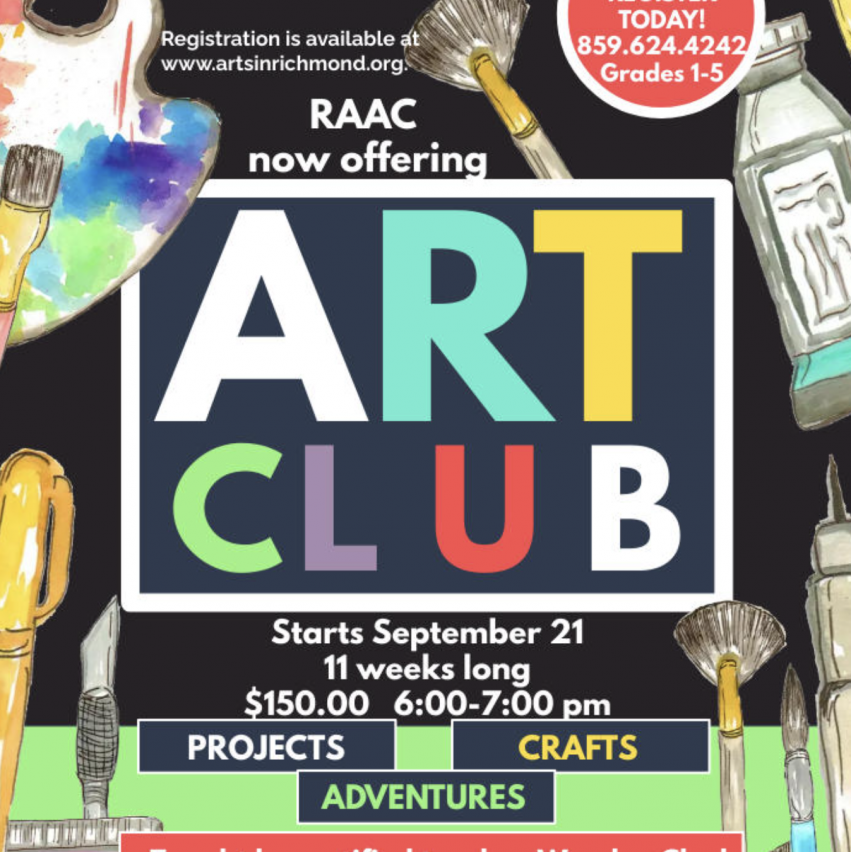 What: Spoonbread Festival
Where: Berea Folk Center
When: Sept 16th-18th, 2022
Details: The Berea Chamber of Commerce invites you to join in the fun of a fabulously exciting hometown festival that has grown larger every year for more than 25+ years!
This exciting festival offers: free admission, free entertainment, a hot air balloon glow, a motorcycle show, a car show, a parade, plus tons of vendors and foods to enjoy and so much more!
Come visit the Spoonbread Festival in the beautiful foothills of the Appalachian mountains at our convenient location off I-75 at Exit 76 & 77 at Berea, KY.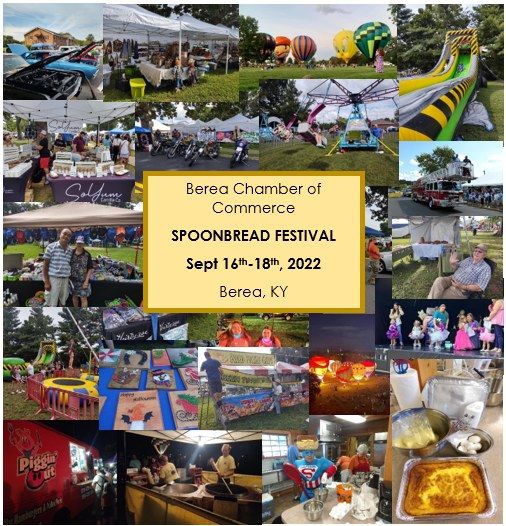 What: Family Nature Day
Where: Maywood Environmental & Educational Laboratory
When: Saturday, Sept 17th, 10AM-3PM
Details: We're so excited to partner with EKU Division of Natural Areas again for the Family Nature Day at Maywoods Environmental and Educational Laboratory on Saturday, September 17th from 10am-3pm.
This is a free event for all ages. The purpose of this event is to inspire children & families to love nature and learn about the great outdoors. There will be outdoor educational workshops and other fun activities on site.
To learn more about the other Natural Areas that EKU has to offer visit: https://naturalareas.eku.edu/
Questions? Call 859-623-8753 or email [email protected]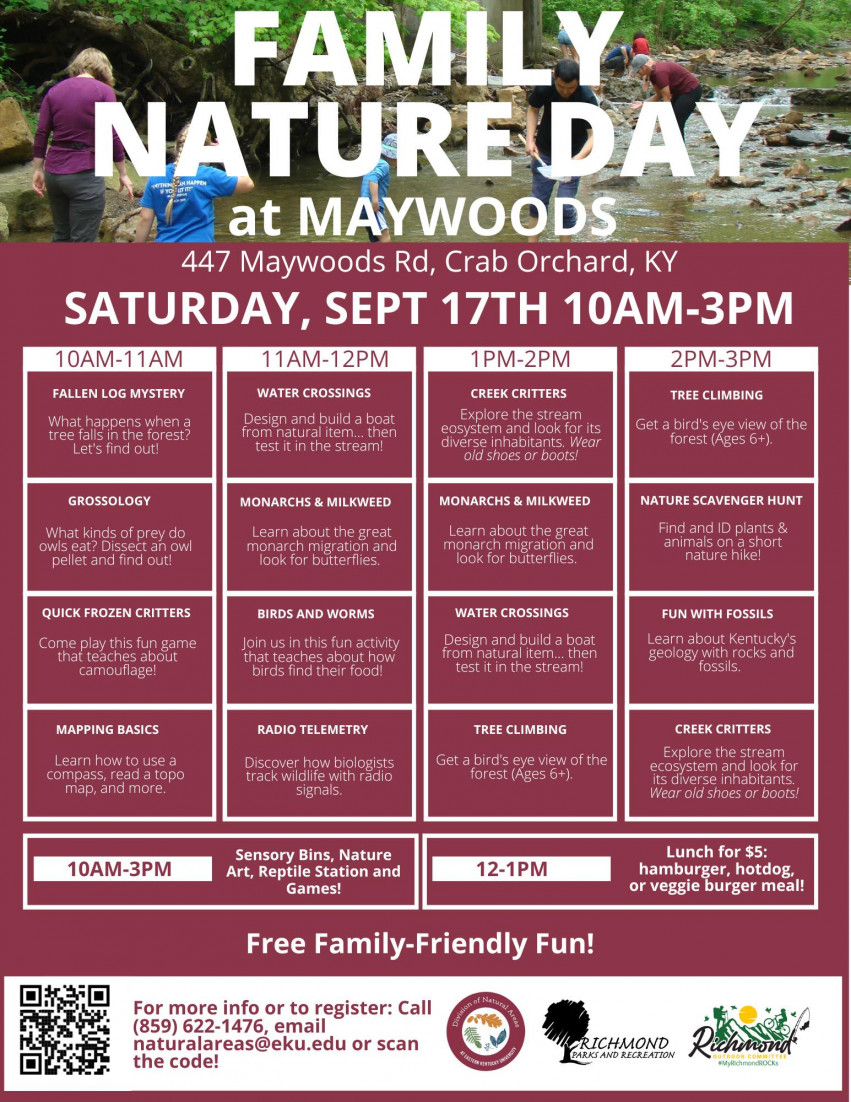 What: Tracks for Packs 5K Run/Walk "10th Year Anniversary"
Where: Richmond Centre
When: Saturday, September 17, 2022 at 7 AM – 10:30 AM
Details: Hosted by Eastside Community Church to benefit the Madison County Backpack Program.
2022 Presenting Sponsor ~ Chenault Vineyards
The annual "Tracks for Packs 5K Run/Walk" is scheduled for Saturday, September 17, 2022 at Richmond Centre in Richmond, Kentucky. This is our 10th Year Anniversary! The race is hosted by Eastside Community Church as a fundraiser for the Madison County Backpack Program which sends home backpacks filled with useful food such as ravioli, soups, fruit snacks, chips, cereal, popcorn, and other snacks for children who may be hungry over the weekend.
The Madison County School with the most participants wins $500!
Come join us as we raise funds for the Madison County Backpack Program
Sign up by CLICKING HERE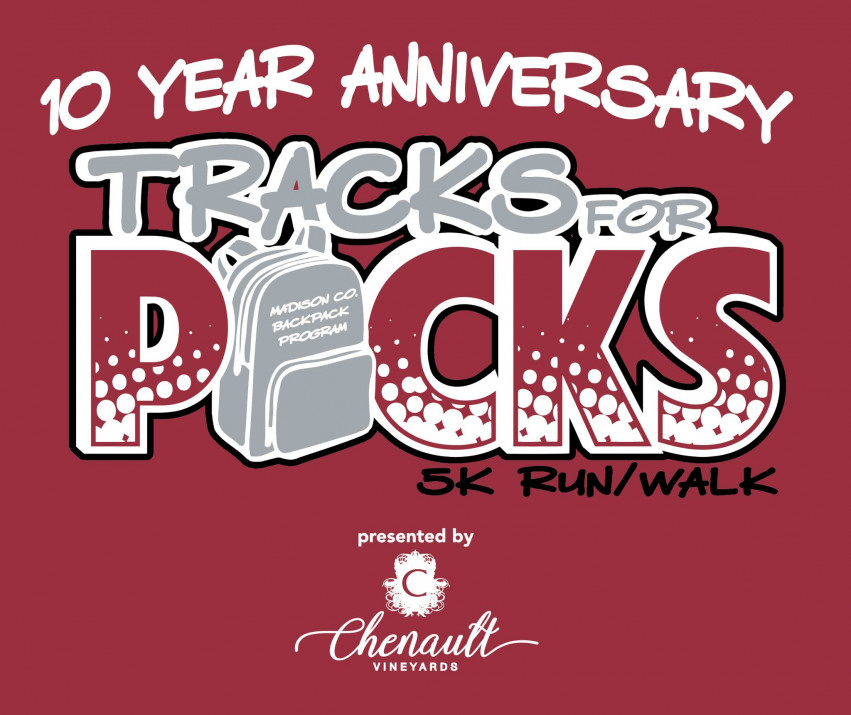 What: The 2nd Annual Millstone Festival
Where: Downtown Richmond
When: Saturday, October 1, 2022 from 11 AM – 10 PM
Details: The City of Richmond and Dreaming Creek Brewery proudly presents the 2nd Annual Millstone Festival on Saturday, October 1st from 11AM to 10PM in Downtown Richmond!
The event will feature lots of fun activities for all ages. There will be community booths and craft vendors, food and beverage vendors, a beer and wine garden, a kid's area, a petting zoo, and the Medlock Car Cruise. There will also be live music performances by Rags and Riches, Scott T. Smith, Vintage Voodoo and Grayson Jenkins!
Entertainment Schedule:
1PM - Rags and Riches
3PM - Scott T. Smith
5PM - Awards & Time Capsule Ceremony
6PM - Vintage Voodoo
8PM - Grayson Jenkins
Dreaming Creek Brewery will also host a Homebrew Contest. For more information on this contest, please call (859) 575 - 7111.
Follow our Social Media or visit our Website at www.richmond.ky.us/parks to stay updated on all things Millstone Festival!
You can also contact the Richmond Parks and Recreation Department at (859) 623 - 8753 or [email protected] for more information!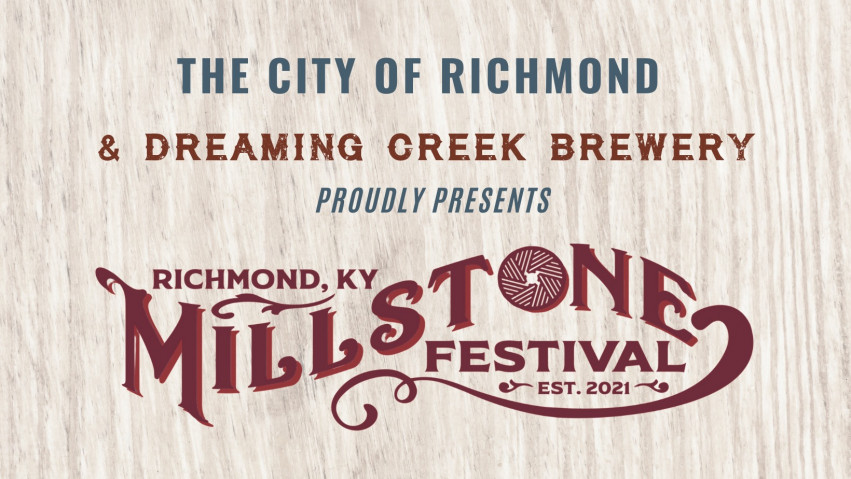 What: EKU Homecoming 2022
Where: Eastern Kentucky University
When: Oct 21 at 12 AM – Oct 22 at 11:59 PM
Details: EKU Homecoming is October 21-22! We are excited to offer a full calendar of in person, signature events throughout the week, as well as other events hosted by different departments and areas of campus.
Join us, both in person and virtually, as we gather for food, fun, laughter, and shared memories celebrating the Campus Beautiful and the Eastern family! Visit homecoming.eku.edu for a list of all our events.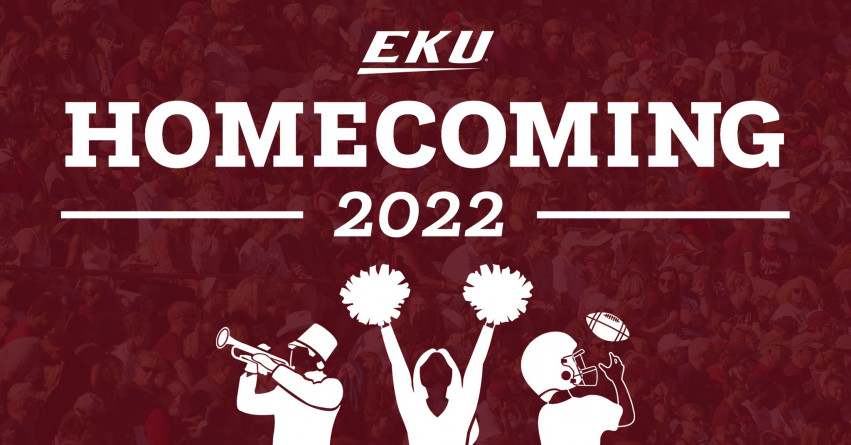 What: Halloween Hoedown
Where: Downtown, 104 S Third Street, Richmond
When: Thursday, Oct 27th, 6PM-8PM
Details: Our annual Halloween Hoedown is happening in Downtown Richmond on Thursday, October 27th from 6:00 pm to 8:00 pm! We will have games, community vendors, candy, music, inflatables, a petting zoo, snack vendors and other activities!
We are currently looking for Community Vendors to set up booths at this event! Applications can be found at Richmond.ky.us/parks.
For questions, call (859) 623 - 8753 or email [email protected]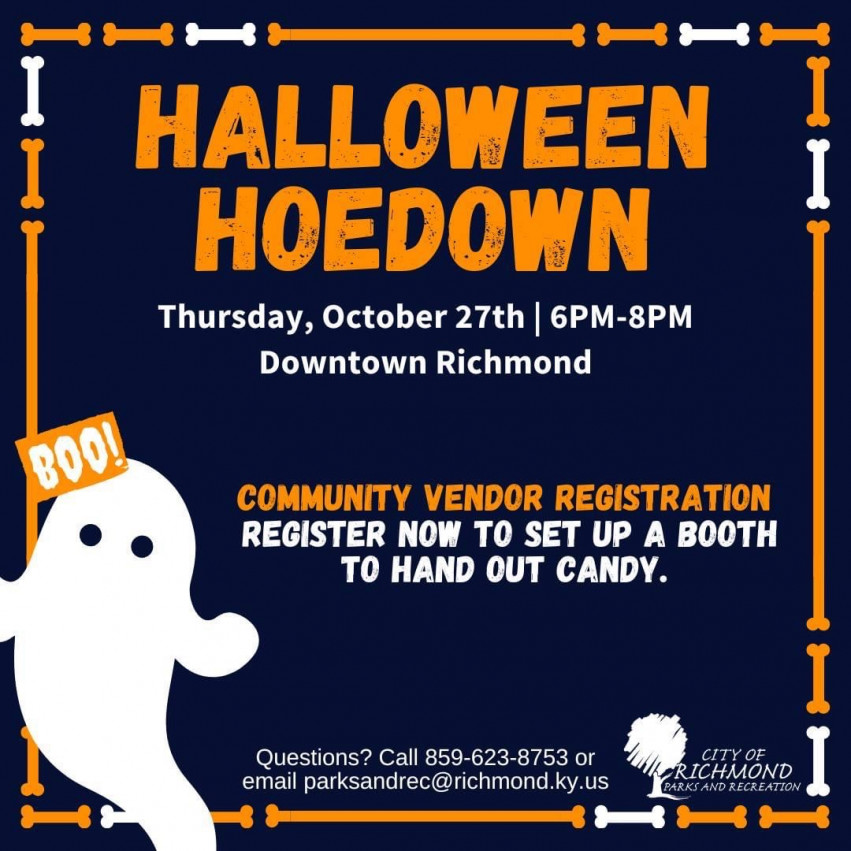 Have more questions?
We always encourage potential sellers or buyers to ask questions. We'd love to help answer them!
Let's Talk