🗓 Richmond Area Guide to Community Events! May
Richmond Area Guide to Community Events
Here are some of the MARCUMsold Team's favorite things to do in-and-around Richmond, KY!
What: Bourbon, Boots & BBQ Derby Benefit (formerly Gala on Derby Eve)
Where: Madison County Fairgrounds, 3237 Old Kentucky Hwy 52, Richmond, Kentucky 40475
When: Friday, May 3rd, 6:30PM – 11:30PM
Details: Bourbon, Boots & BBQ Derby Benefit (formerly The Gala on Derby Eve) is Madison County's longest-running Derby party, an outstanding night of live music (featuring special guest Walker Montgomery this year!), dancing, hors d'oeuvres, dinner, auctions, photo booth, and so much more. Back this year is the popular bourbon tasting! Grab friends, a date, family, or coworkers and place your reservations today. Not only is it a lot of fun, organizers donate all proceeds to Hospice Care Plus. Seating is limited. Location: Richardson Hall @ The Madison County Fairgrounds
Tickets: CLICK HERE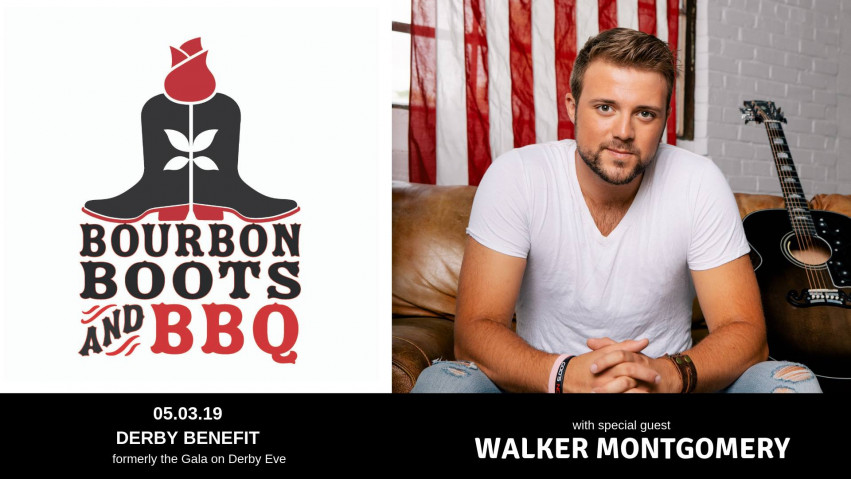 What: Derby Brunch
Where: Black Box Theatre, EKU Center for the Arts
When: Friday, May 3rd, 6:30PM – 11:30PM
Details: "Silks and Saddles" Derby Brunch
Saturday, May 4
10:30 a.m.-1:30 p.m.

Music by Rockland Road
Catered Brunch and Cash Bar
Derby Hat and Tie Contest
Souvenir Derby Pictures
Door Prizes and Raffles

Those who attend the Derby Brunch will enjoy music by the talented Rockland Road, formerly known as the Martin Family Circus. Winchester native, former EKU student, and multi-instrumentalist Paul Martin was recently a member of Marty Stuart and his Fabulous Superlatives, and he has developed a respected reputation as a Nashville session/touring musician on guitar, bass, keyboards, and drums. He served as the lead guitarist and lead vocalist for Exile from 1989-1995. Paul's wife, Jamie, is the daughter of Duane Allen from The Oak Ridge Boys, and she has worked in the music industry for many years. The six-piece Rockland Road includes Paul, Jamie, and their four children performing songs by The Beatles, The Beach Boys, The Oak Ridge Boys, Exile, Steely Dan, Toto, Chicago, The Jackson 5, Journey, and many other artists. They will also perform an outstanding version of "My Old Kentucky Home."

This is a much-anticipated event and one that you won't want to miss. Sponsors for the 2019 Derby Brunch include 1st Trust Bank, Community Trust Bank, Cumberland Valley National Bank, Spencer Templin, Dr. and Mrs. James C. Murphy, Nancy Robertson of Coldwell Banker, McMahan Realtor, Ridings Insurance & Financial Services, LTD, Renfro's Collision, J & K Kreations, and Soft Shoe. Make RAAC's annual Derby Brunch part of your derby day celebration.

Admission is $40 in advance. RAAC members will receive a 10% discount. Space is limited. Tickets may be purchased at the Richmond Area Arts Center (399 W. Water St.), by calling 859-624-4242, or online at www.ArtsinRichmond.org. Call 859-24-4242, or email [email protected]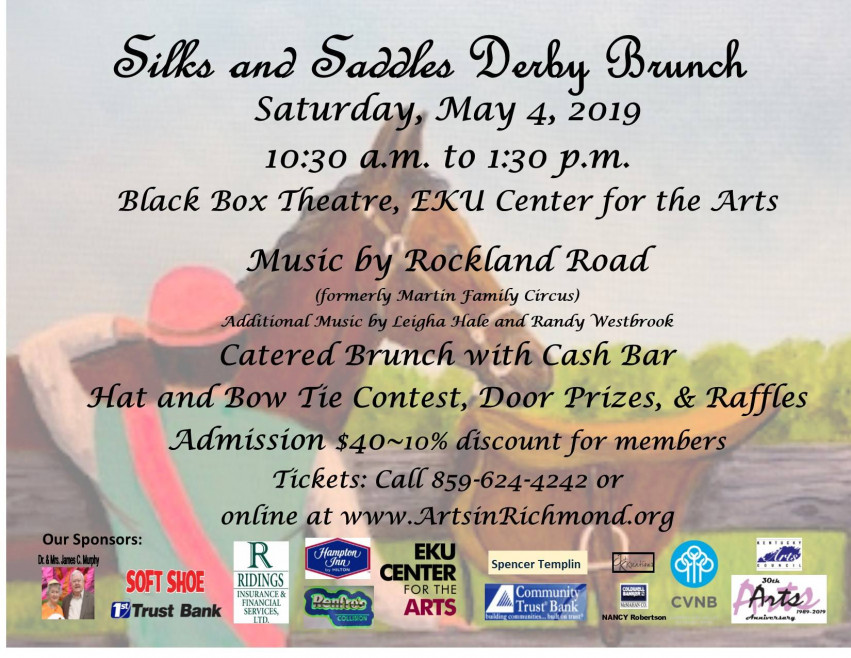 What: Derby Party at Chenault Vineyard's
Where: Chenault Vineyards, 2284 Barnes Mill Rd, Richmond
When: Saturday, May 4th, 6:00PM
Details: Join us for The Kentucky Derby we will have drink specials and our hometown beloved Faded Blue playing on the patio! We look forward to everyone coming out and don't forget your Derby hat!! 🐎🐎🐎🐎🐎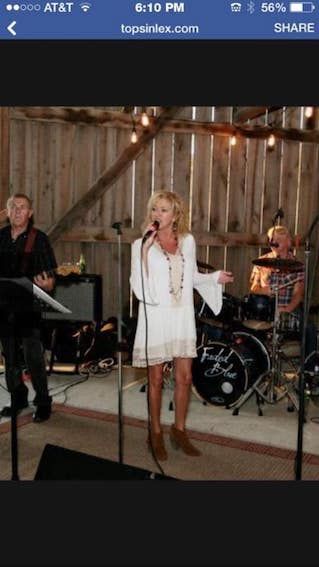 What:

3rd Annual Bluegrass River Run
Where: Fort Boonesborough State Park, 4375 Boonesboro Road, Richmond
When: Saturday, May 11th, 7:00AM-5:00PM
Details: This spring grab a kayak, paddle board, or canoe and join EKI & friends for the third annual Bluegrass River Run (BRR) presented by Visit LEX, one of the largest paddlesports event in Kentucky. We'll launch from Fort Boonesborough State Park paddling along pool 9 of the Kentucky River, which is located just south of Lexington. The journey allows you to take in the incredible beauty of the 60+ ft cliffs of the palisades and enjoy floating refreshments stops, as well as musical artists playing from docks along the river at several points along the course. As we approach the finish line at Clay's Ferry, you'll be greeted with music from our headliner, as well as the scrumptious food from Proud Mary BBQ. There will also be an an outdoor recreational festival with tons of activities for all ages including partners like Kentucky Department of Fish and Wildlife Resources and Bluegrass Wildwater Association. For the folks who want more of fitness challenge take on the 19 mile Boonesborough to Valley View Challenge or the 6 mile Clay Ferry's Run. If you can't BYOB, don't fret we will have plenty of canoes, kayaks, and SUPs for rent!
To register: www.explorekentucky.us/bluegrassriverrun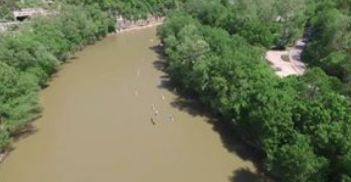 What: SuperHEARo 5K
Where: White Hall Historic State Shrine, 500 White Hall Shrine Road, Richmond
When: Saturday, May 25th, 8:30AM-10:30AM
Details: Registration is NOW OPEN for the second annual SuperHEARo 5K on May 25, 2019! There will also be a 1-mile fun run/walk. Prizes will be awarded to the best dressed superheroes and wonder pet.

Activities will be available for the kids, as well as meet and greets with superheroes, such as Spiderman, Captain America and Wonder Woman!

Don't miss this family-friendly event to benefit Kentucky Hands & Voices, which supports families of deaf and hard of hearing children.

All hearing levels and communication modalities are welcome and encouraged! ASL interpreters will be available for those utilizing American Sign Language.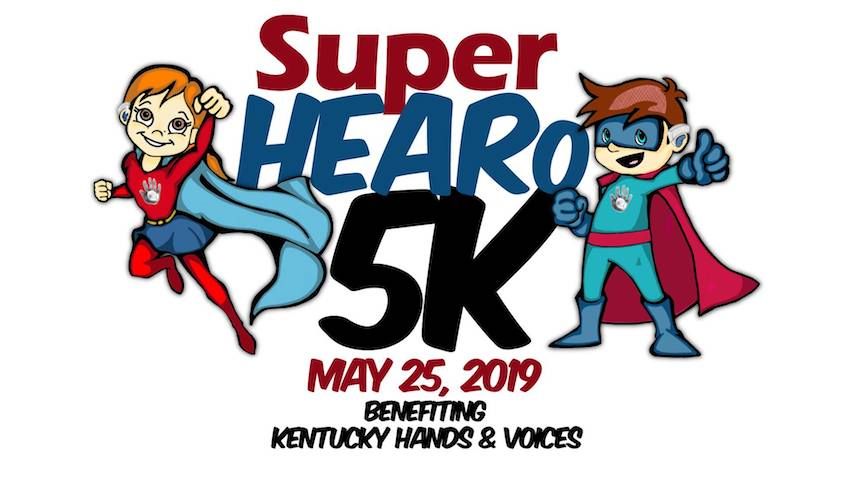 What: Dive-In Movie "Incredible's 2"
Where: Paradise Cove Water Park, 274 Lake Reba Drive, Richmond
When: Friday, May 31st, 7:00PM-11:30PM
Details: May 31st we will be having our first Dive-In Movie of the year. We will be showing the Incredible's 2. This is event is free and open to the public. There will be free swimming from 7 PM- 9PM with the movie starting at ~9:30 PM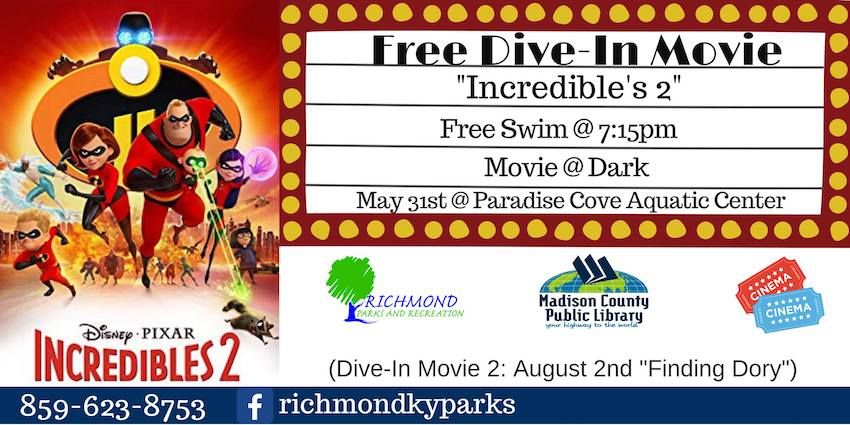 What: 2019 Taste Of Richmond
Where: Richmond Centre, 2091 Lantern Ridge Dr, Richmond,
When: Friday, June 21st, 6PM – 9PM
Details: The Taste of Richmond is an annual event that takes place in the heart of the Richmond Centre. It is a night of outdoor family fun featuring a live band and all you can eat tastings from Richmond's finest restaurants and local dining establishments! Fresh pasta, steaks, chicken, homemade treats, smoked barbeque, hot pizza from all of your favorites, hand scooped ice cream, and so much more! All area food vendors are invited to participate in the event with attendees purchasing tickets to try a taste of their food. It's the tastiest event of the year!