🗓 Richmond Area Guide to Community Events!
Richmond Area Guide to Community Events
Here are some of the MARCUMsold Team's favorite things to do in-and-around Richmond, KY!


What: Meet & Greet with Peppa Pig & Spiderman @ Richmond Skate Center
Where: Richmond Skate Center, 525 Recycle Drive, Richmond
When: Sunday, March 31st, 2019 from 2:30PM – 4:30PM
Details: Peppa Pig & Spider-Man will be visiting the Richmond Skate Center!
Mark your calendars for this family fun Easter event Sunday March 31st 2019 from 2:30-4:30 p.m.

www.richmondskatecenter.com
525 Recycle Drive
Richmond, Ky 40475
Call 859 314-1307 to purchase advance tickets by credit or debit
Limited Quantities Available
Entry Fee $10.00 per person

Admission, Meet & Greet, Prize Bag, Glow Item, & Free Skate Pass for next visit is included. A photo booth will be set up for pictures. Peppa & Spidey will be out with the kids skating & dancing. Concessions, trampolines, bounce house, games, ping pong, air hockey will also be available at the event.
Balloon Drop, Bubbles 🎈

Make sure when you call to pre order tickets to ask about the Easter Baskets available to purchase additionally for the characters to give your child!

Sponsored by: Rent-A-Character & Richmond Skate Center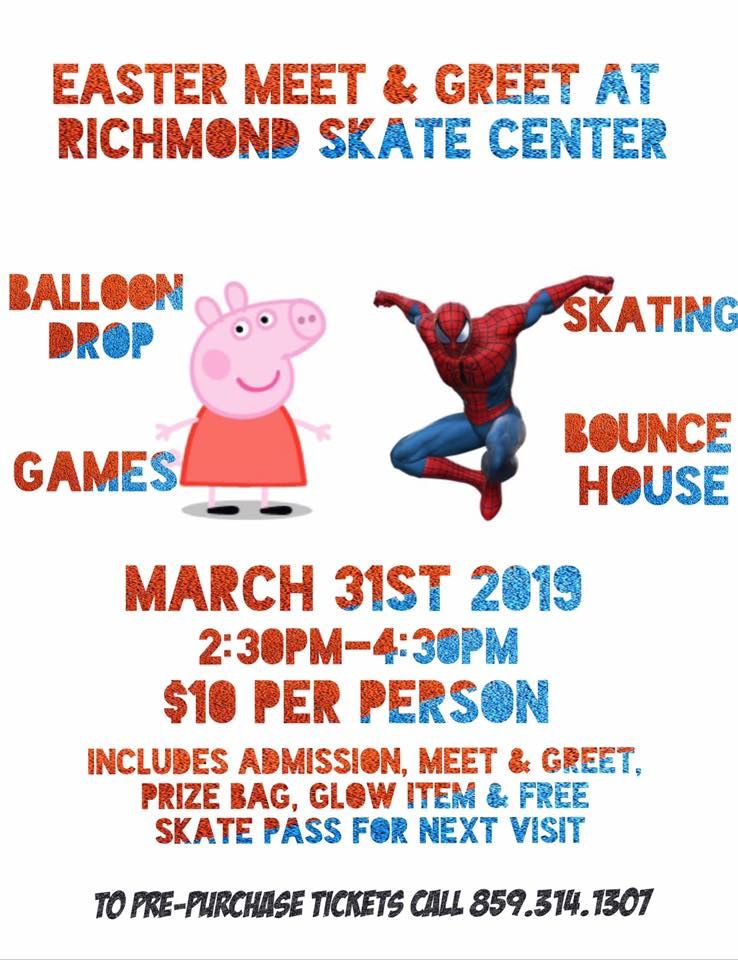 What: Perfect Little Planet Planetarium Show
Where: Hummel Planetarium, Kit Carson Drive, Richmond
When: Thursday April 4th, 2019 from 2:30PM – 3:30PM
Details: Kids are on Spring Break!
Join us for a showing of Perfect Little Planet with a star talk showing you what planets and stars are in the night sky at 2:30!
Recommended for Kindergarten to Upper Elementary
Admission- Adults: $6.00 + tax, Kids (ages 4-17)/Seniors: $5.00 + tax, Kids 3 and under: Free
NO LATE ENTRIES

Show Information: Imagine the ultimate space vacation! Now, you can follow a family from another star system seeking the perfect vacation spot in our solar system. You can fly over the surface of Pluto, our best known Dwarf Planet. Then, dive over the ice cliffs of Miranda, sail through the rings of Saturn, and much more! Join us on this adventure and see what destination they choose.

Show Preview: https://vimeopro.com/user7152698/sky-skan-fulldome-trailers/video/73237517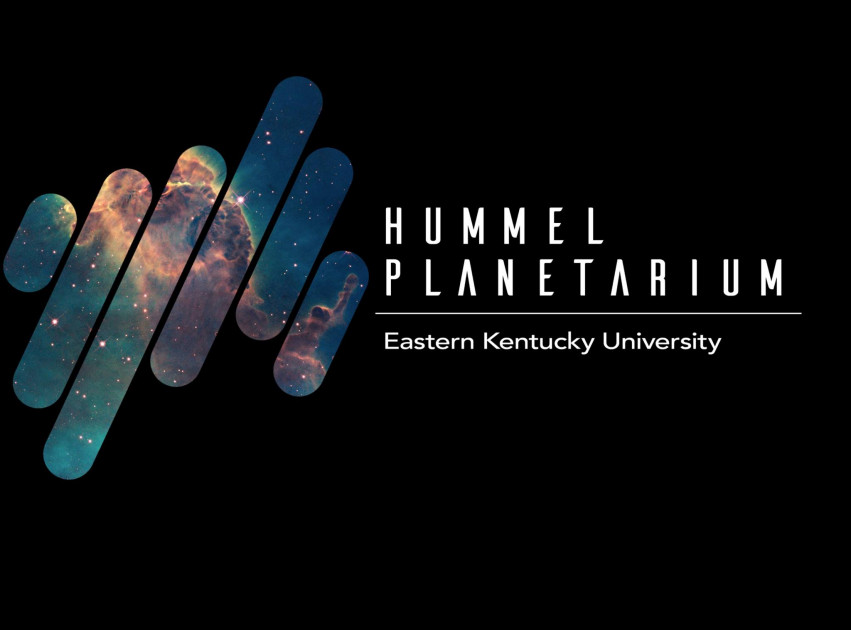 What: 2019 Madison County Empty Bowls Project
Where: First Baptist Church, 425 Eastern Bypass, Richmond
When: Friday, April 12th, 2019 at 4:30PM – 6:40PM
Details: Minimum donation of $12 for handmade pottery bowl, homemade soup, bread and drink. 100% of proceeds go to feed the hungry through local programs.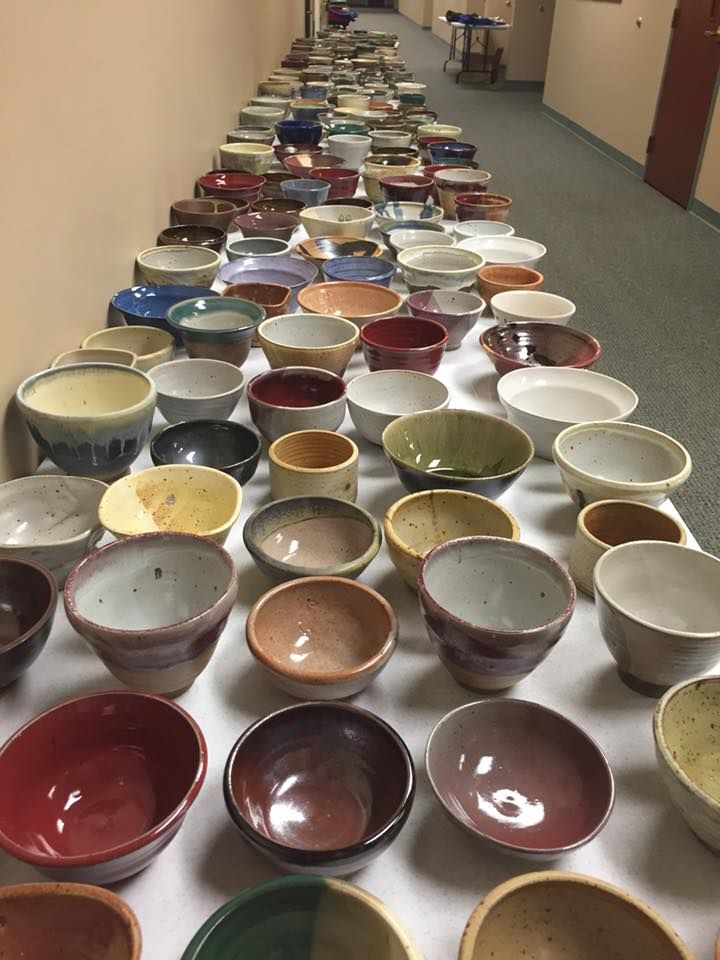 What: 4th Annual Dandelion Festival
Where: Berea College Sustainability
When: Saturday, April 13th, 2019 from 9AM – 5PM
Details: **FREE AND OPEN TO THE PUBLIC**
"Reimagine the American Landscape" and redefine what is truly beautiful, not only to the eyes, but beautiful to our entire ecosystem. How we manage our landscapes affects everything dear to us – our soils, water, air, and health of our family, neighbors, friends… all of us. We'll begin with workshops in the morning in the Alumni Building on Berea Campus, give bicycler's the opportunity to participate in a "bike for the dandelions" race, and in the afternoon we will have a festival outside on the College Square and Fairchild Lawn that will include music, activities, and much more.

What: Shop Local Berea-Spring Passport Event
Where: Berea, KY
When: Friday, April 13th, 2019 at 10AM – April, 20th 7PM
Details: 27 Berea merchants have joined together to create a contagious, FREE campaign to show community members what our amazing stores have to offer!

During the week of April 13-20th you have the chance to win prizes, support local businesses, shop amazing deals, all while have a great time in our community.

HOW IT WORKS:
• Passports are available for pick up at the Berea Tourism Center and all participating merchants
•You will receive a stamp for visiting at each location, NO PURCHASE IS REQUIRED FOR A STAMP.
•Your passport does not have to be complete to enter to win prizes, but the more stamps you get, the better your chances to win from the participating businesses. There will be 26 winners, and one Grand Prize Winner. You have the entire week to visit as many or all of the participating businesses.
•Fill our your contact information, then leave your passport at your last business stop.
•Winners will be chosen live one Facebook on April 24th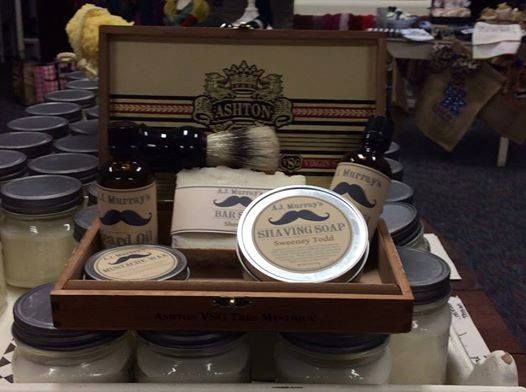 What: 2019 Officer Daniel Ellis Memorial 5K
Where: First Baptist Church, 425 Eastern Bypass, Richmond
When: Friday, April 27th, 2019 at 8:30AM – 10:00PM
Details: 4th Annual Officer Daniel Ellis Memorial 5k
Saturday, April 27, 2019 - 8:30am
www.OfficerEllis5k.com